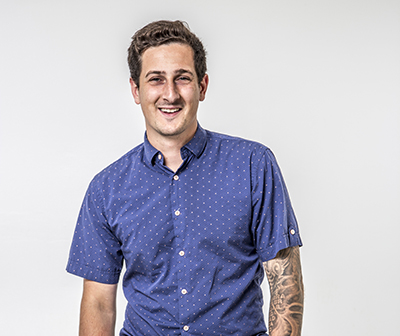 To help people learn more about their mental health
To help people experience relief from their symptoms of anxiety, depression, and/or stress.
To show people wonder and amaze them with world-class magic and mentalism.
Help people feel relief from the real world by evoking 'awe'
Provide people with interactive and engaging experiences that shift their thinking.
Provide clients with world-class experiences in entertainment and education.
Message from Anthony
When I was growing up I was bullied so bad that I had to move schools. I used self-harm to cope with my experiences from that event as a 5th grader. I went over to Kingsbury Country Day School in Oxford. A private school that only had six other students in my class. Although this school probably saved my life, and boosted my education immensely, I never learned about Mental Health or Coping Skills. I would go on to attend a pretty normal life in high school until my junior year. I was a varsity wrestler and on a 20 match win streak with a pretty optimistic path for a college scholarship. I was also an honor roll student who took AP classes. My junior year I suffered a traumatic injury from a wrestling match and life at home was very unstable. I attempted suicide three times over the course of just 4 quick months after using self-harm, alcohol, and drugs to cope with my depression, anxiety, and stress that came from these awful events in my life. After my last suicide attempt, which was an overdose on alcohol and Vicodin, I remember waking up and saying "It's never going to be this way again". 
Ever since that day I have used Magic and stories from my personal experiences to teach people about Mental Health in a way that's easily accessible and comfortable. When I was 18 years old I started to work with Common Ground, a crisis and resource center, to share my story around Michigan at schools, meetings, and conferences. Ultimately this lead to my great life I have now as a touring Speaker and Magician! 
I remember the CEO of Common Ground, Tony Rothschild, said to me I had to use Magic in my presentations about Mental Health and Suicide prevention for the rest of my life because it was my true calling. He helped me develop my straitjacket and chains presentation that I use to end every keynote. Tony ended up passing away from cancer and I would end up giving them presentation at his memorial service at Wayne State University to commemorate his life. I still think about Tony and the huge impact he had on Suicide Prevention in Michigan every day.
Now, as of August 28, 2021, I am 26 years old. I have presented and traveled all over the world with my presentations trying to reach people who are struggling from anxiety, depression, stress, and suicidal symptoms. I have trained entire military bases on Suicide Prevention, visited thousands of schools (who bring me back often) letting students know they have the tools to accomplish anything they need, and even partnering with organizations like The Children's Hospital and US Army to bring my presentations and workshops to those who are looking to improve their community's quality of life. There's nothing unique about our trauma, our anxiety, or our depression and we don't do enough to educate people about how to cope or react to these situations and experiences. 
Also, I did this thing where I opened for the biggest names in the entertainment industry like Jim Gaffigan, The Impractical Jokers, The Chainsmokers, America's Got Talent winners, and I have performed pretty much all over the world. Turns out dreams can still come true even after we hit our lowest points in life.
I have been obsessed with the art of magic my entire life. I actually grew up riding unicycles, walking tight ropes, juggling, and of course practicing Magic. My parents took me to Las Vegas to see Lance Burton perform at the Monte Carlo when I was 8 years old and that was when I knew I would become a Magician. I even have a library of magic books in my collection that date from rare books to encyclopedias on sleight of hand. I have gotten to work with some really cool people and celebrities the last decade. I have gotten to open for, and speak at conferences with, The Impractical Jokers and rocking shows of 20,000 people! I have also opened for Darci Lynne, the ventriloquist who won America's Got Talent and Bill Engvall from the Blue Collar Crew. I think the most memorable show I ever did was open for The Chainsmokers at a company party. I put on a 45 minute show where I played with fire, performed world class illusions, and even escaped from a straitjacket and 40ft of chain in the crowd when they opened up a pit for me. It was gnarly!
Although I love the spotlight on stage I was lucky to grow up in Michigan where close-up Magic thrives. I take pride when I say you'll never see another Magician perform any of my material. I have created all original magic that looks absolutely real. I try to add positive jokes and compliments into my routines because I just want people to experience joy, awe, and wonder when they meet me. I get so excited every morning knowing I get to entertain people later that day.
Options for People of all Ages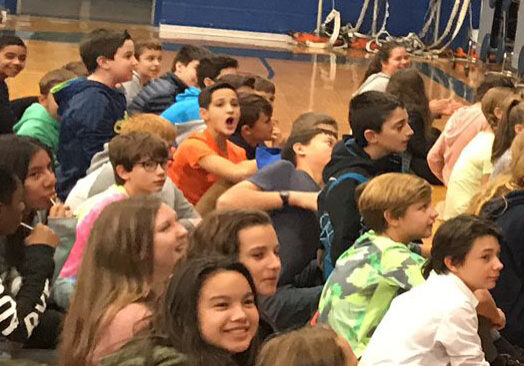 Kids & Pre-Teens
Reach an incredibly hard to impact age group. Anthony has been speaking at elementary and middle schools for over 5 years!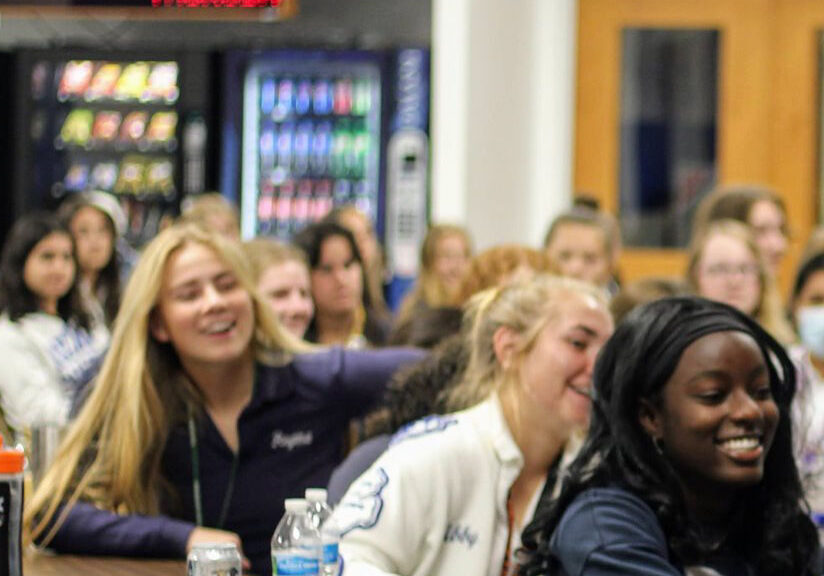 Teenagers
Reach an incredibly hard to impact age group. Anthony has been speaking at middle schools and high schools for over 5 years!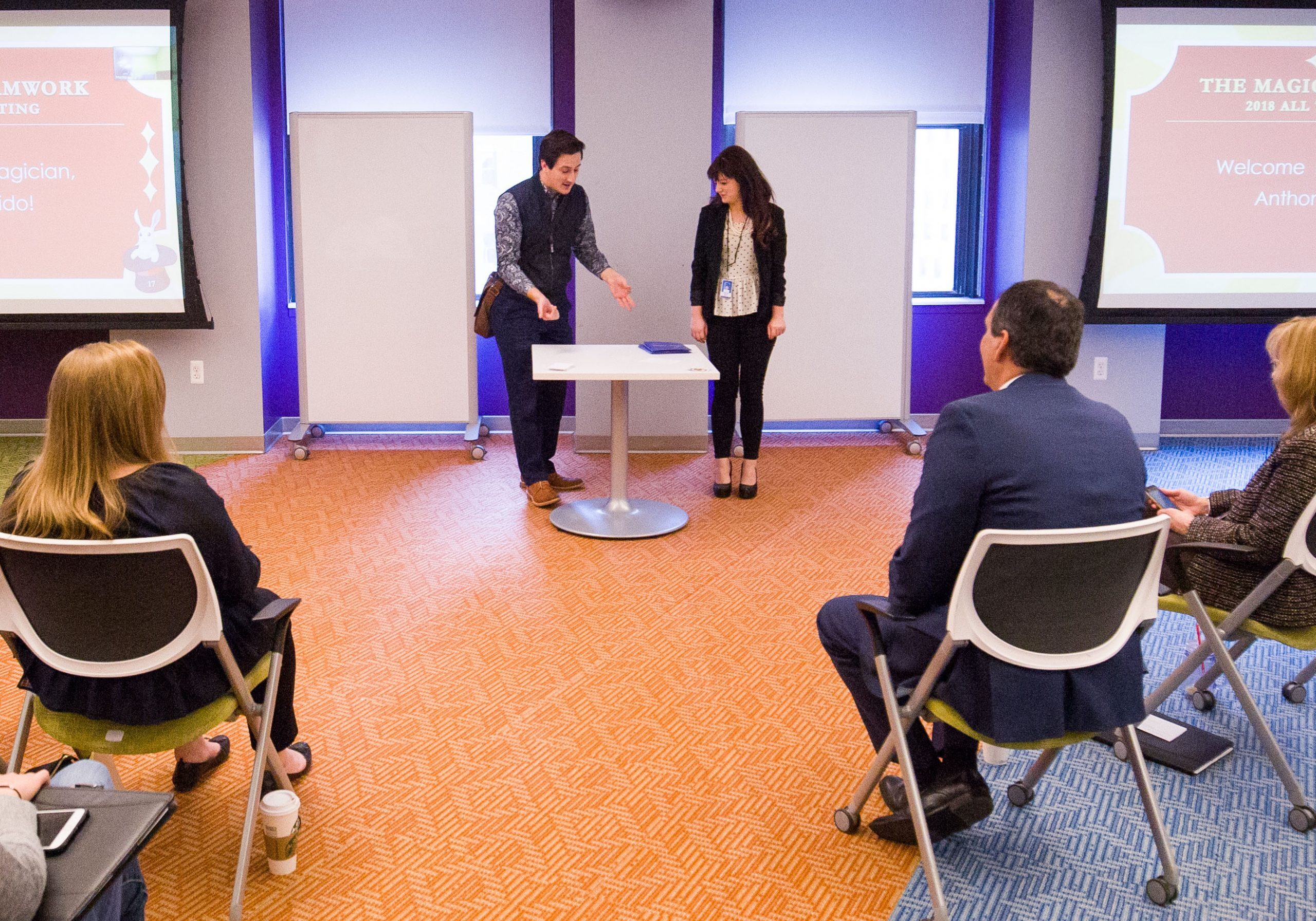 Adults - Young & Old
Anthony knows how to build morale amongst your team in Conferences, Luncheons, Team Building, and many more formats!